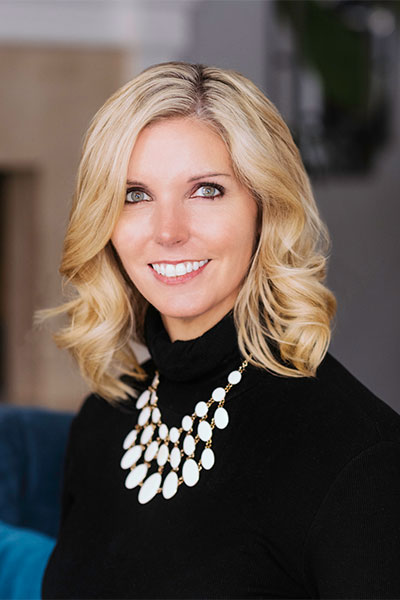 Pam Gottfred MacPherson does it all. She's "always frank and honest with opinions on what needs to be done to help your home sell quickly for top dollar," and isn't afraid to get her hands dirty during the staging process. Because selling and buying is a very personal and emotional experience, she believes it's important to have a voice that appreciates the delicacy of the situation but still stays grounded, direct, and factual in the process. "Many homes have great bones and potential. I love helping the seller stage their home to help attract today's buyer and adjust to the ever-changing demands of the market."
Pam specializes in luxury markets in the near north suburbs of Glenview, Golf, Evanston, Wilmette, Winnetka, and Kenilworth and has extensive experience with new construction and rehab projects. Prior to specializing in the Northshore market, Pam helped clients and developers buy and sell in various Chicago neighborhoods such as West Town, Lincoln Park, Lakeview, among others. As she started focusing more on the North Shore, she started the MacPherson Group to make the Urban to Suburban transition smoother for their buyers and sellers. They offer a variety of concierge services to their clients to assist with any roadblocks in home purchase and sales environment including decluttering services, staging, contractors, and advanced marketing. They have a licensed specialist on their team in almost every neighborhood of the North Shore Suburbs, Western Suburbs, and Chicago Neighborhoods. Clients benefit from first-hand knowledge of products, pricing, and negotiation. For sellers, Pam has a proven track record of selling homes at a 96.9% list-to-sales price ratio, according to Broker Metrics powered by the MLS.
Pam grew up in the Village of Golf and attended Glenbrook South High School, then went on to be a scholarship athlete at Duke University. She and her husband moved four times in their first five years of marriage. "All of our moves and researching communities and homes in different states is where my experience and love for real estate started." Before moving to Glenview, she and her family lived in Evanston for 10 years. Her husband, Matt, is the Associate Head Coach and Defensive Backs Coach for Northwestern University's football team.
Pam's competitive nature, strong negotiation skills, staging design experience, and extensive market knowledge bring unique skills to her clients. When not selling homes, she enjoys spending time with her husband and three children and cheering on the Northwestern Football Team.

Pam is amazing. She is as smart as she is passionate about her work. We met with Pam in the summer of the 2019 and what impressed me most was her desire to learn more about me and my family before she asked about our real estate plans. As we embarked on our search, Pam brought a perspective and knowledge that was invaluable in that she could see our needs today, 5 years now from now, 30 years from now. This resulted in narrowing down properties quickly and ultimately moving to contract within a couple months. Walking into every showing, you could see the respect other realtors have for Pam and I always felt proud that we had her representing us. Moreover, her advice and ability to navigate the complexity of our contingent deal was spot on. Today, we are in a wonderful home and couldn't be happier. I highly recommend Pam.

Steve K.
Pam took the time to help us find a home my family would love and grow into. We also needed a home in an excellent school district. She is very knowledgeable about the northern suburbs of Chicago. We were looking into a few different suburbs so this was helpful. Her ideas about home layouts and flow to furniture layout helped me envision myself in the home and helped tremendously. I saw a few homes that had some awkward layouts and Pam immediately saw how the home could be with a few changes. We have now been in our home for over a year so this review is long overdue. But that's how good Pam is - a year later and I'm extremely happy how everything turned out.

Matt H.
It was an absolute pleasure to work with Pam! Where to even start... we were moving from out of state and Pam provided invaluable knowledge of the locale, process, contacts, contractors, etc. She is very accommodating and responds quickly to questions and requests. We were selling our house (out of state) at the same time, and by comparison, Pam made things super easy and the next steps in the process were always clear. Extremely resourceful, she was able to get us quotes and inspection on almost no notice! She is also a great problem solver and I felt like anything was possible. I would definitely recommend working with Pam! Thanks for a great experience!

Jessica S.
My husband and I were very lost as we did not know much about home buying. That's when Pam came in to save us! She walked us through every single detail and brought us to a variety of homes to see what we liked and disliked. She has so much knowledge about different aspects of homes and areas and was very intentional about pointing features out to us that we would have never noticed. Throughout the entire home buying experience we felt very confident with Pam on our team. She works so hard for her clients and truly wants them to find the exact place they are looking for, no matter how long it takes. She is very responsive to any questions and was extremely helpful in putting us in contact with local businesses to service our new home. She works around the clock for her clients and that is exactly how we were able to secure our dream home. We can't recommend Pam enough. Her honesty, expertise and understanding made these clueless first time homebuyers confident and reassured every step of the way!

Courtney R.
Pam helped my family to recently sell and purchase our home in Glenview. Pam is the consummate professional. She is full of integrity and thoughtful of the entire process when buying and selling a home. Not only was she there to keep my family informed in a timely, efficient, and honest way throughout the process but also she was there with her team to help hands on when needed with services beyond most realtors. She knows her community like no one else, has her pulse on what is happening in the market, and represents her clients to help them through what can be a stressful and hectic time. I would recommend Pam to anyone looking for a seasoned and trustworthy realtor!

Jen M.
Five stars is not enough to rate our experience working with Pam. We contacted her for the sale of our home, and purchase of our new home and she quickly took over with her team and got the job done. Her team impressively had our home staged, photos complete and marketing done within a few short days. There were times we had to reach Pam early mornings and late evenings and she was always responsive and went above and beyond to answer our questions and help us feel 100% comfortable with our decisions. Pam is professional and a straight shooter in regards to numbers and strategy. We had a fantastic experience working with Pam and her team and would highly recommend them to anyone in the area.

Amy J.